Piano Valuations
Get your Piano Valued. If you've recently inherited a piano or are curious as to what your piano is worth, why not contact us and find out more about our piano valuation service.
With nearly 40 years in the piano valuation industry, we have specialist knowledge of most piano makes and models, especially the more traditional instrument. Even though we're based in Oxford, we can value your piano no matter where it is located within the UK.
In order to help you further, we've put together some FAQs about our piano valuation service. If your question has not been answered below, please do not hesitate to contact us directly to discuss your individual requirements.
Questions about piano valuation
How much do piano valuations cost?
The fee for a piano valuation either by letter, sent by post, or by Email, is £50.00 + VAT. If you would like to request a piano valuation from us please send the information and photos requested in the following questions or contact us to discuss your requirements.
Who do you offer your valuation service to?
We are happy to offer a professional valuation service to clients throughout the UK. For clients local to Oxford, we will visit you to assess the instrument and the fee will depend upon how far from Oxford you live.
For clients who live further afield we are still able to provide a valuation, but we will need the answers to various questions and a few photos of the interior of the instrument. The more information you can give us, the more accurate our valuation will be.
What information do you need to value a piano?
In order for us to be as accurate as possible when providing you with a piano valuation, we'll need you to provide us with the answers to the following questions:
Is it an upright or grand piano?
The make of piano. This can be found on the fall (keyboard lid); or inside, cast in the iron frame above the strings;
Approximate measurements. If it's an upright piano we'll need to know the height and if it's a grand piano, we'll need the overall length
Confirmation of any factors of which you are aware and which are not obvious from the photos. This would include cracks in the frame, splits in the soundboard, repairs undertaken in the past, water damage, etc.
The serial number, if possible. This is usually stamped on the iron frame (If a grand, slide out the music stand, and look on the iron frame or soundboard).
Confirmation of the type of valuation you want – i.e. Market value; likely replacement cost for insurance purposes; price at which to attempt a private sale, etc.
In addition to the above, we also need a few pictures of the instrument, particularly the interior, and preferably by email using a digital camera.
The photos we'll need are as follows:
In an upright piano, lift up the 'Half-top' lid, then remove the 'Top Door' (above the keyboard), using the two catches just inside at each end at the top. Take photos of the strings and the action.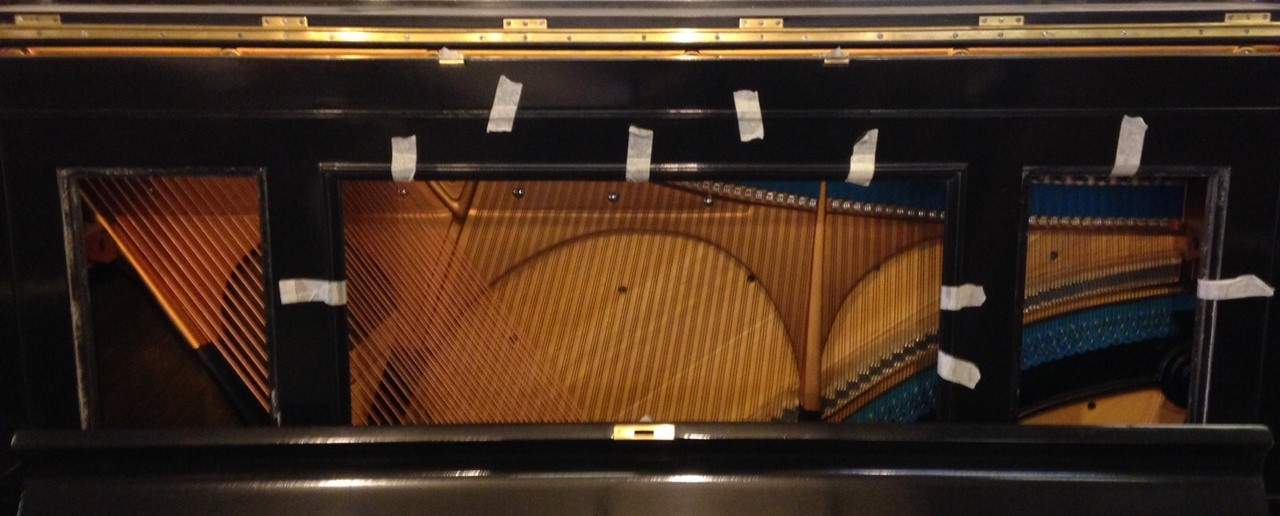 In a grand piano, lift the main lid onto the Prop-stick, and slide out the music stand. If you can lift out the fall (keyboard lid), an additional picture of the action horizontally taken, will assist, but it is not essential. Take photos of the case and strings.
If you don't have a digital camera, then ordinary photographs sent by post will be fine. We regret that we cannot offer a valuation without photographs. Please contact us directly to discuss this further.
How accurate are your piano valuations?
We will endeavour to provide the most accurate figure we can, based on the details you provide (see previous question). However, we cannot accept any liability for inaccurate valuations due to lack of information or misinformation provided to us. Clients using our valuation service will be deemed to accept these conditions. Our usual practice is to calculate a range within which a piano's value lies. Please contact us directly to discuss this further.